Own Copper Rounds and Commemorate a Modern American Statesman Too
Ron Paul copper rounds available exclusively at Provident Metals celebrate peace, freedom and prosperity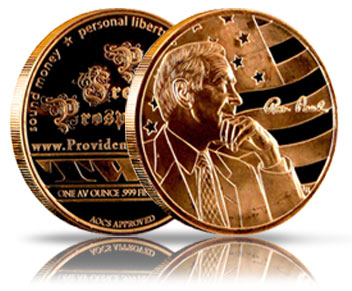 Copper bullion bars and rounds are increasingly becoming a popular investment option for preserving wealth that's much less expensive than gold or silver and affordable for just about any budget. Copper coins can serve as both a great investment and barter tool if necessary.
Copper rounds are produced by private mints and come in a variety of designs, many of which are replications of popular gold and silver coin designs of yesteryear.
But the latest design produced exclusively for Provident Metals is completely unique.
Our latest copper rounds commemorate Dr. Ron Paul, a U.S. Representative from Texas, presidential candidate and country OB doctor that's delivered over 4000 babies. Each Ron Paul copper round contains 1-Avoirdupois (AVDP) ounce of .999 fine copper.
Besides their all-important metal content, Ron Paul copper rounds extol themes the congressman passionately argues for – namely peace, freedom and prosperity.
The front of Ron Paul copper rounds features a bust of the congressman in front of an American flag adoring his autograph. On the reverse side, the edge of the coin adorns three themes that succinctly describe the congressman's philosophy – sound money, personal liberty and free markets. The coin's weight along with www.ProvidentMetals.com is also pressed on the reverse side.
Provident Metals' copper rounds featuring Ron Paul are certified by the American Open Currency Standard (AOCS) as containing 1-AVDP ounce of .999 fine copper. Only the most reputable mining facilities and craftsmen receive AOCS' endorsement.
Ron Paul copper rounds are available for purchase through our online store for an everyday low price. Each coin comes in brilliant, un-circulated condition.
We also offer bulk pricing on this and many other items in our inventory.
Buy your collection of Ron Paul copper rounds today through our secure online ordering system. Or if you'd prefer to place your order by phone, call (877) 429-8790 and speak with one of our friendly representatives today.
Click the buttons below to shop for other investment grade copper!
1 AVDP Oz .999 Fine Copper Coin, Ron Paul Design
As low as
$0.95

Buy Now
Order by phone:
800-313-3315